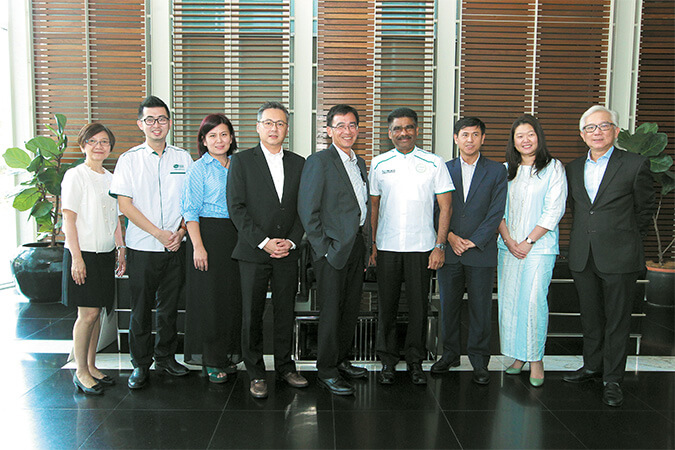 Corporate Malaysia warriors will once again be stepping away from their desks, donning their Lycra pants, shirts and ties, and putting on their running shoes for a good cause. Yes, The Edge Kuala Lumpur Rat Race, which has raised more than RM21 million since its inception in 2000, is back for its 18th edition.
Scheduled to take place on July 31 this year, the race will start at Padang Merbok in the heart of Kuala Lumpur. Participants will get to take in the lush greenery and iconic landmarks of the capital city while running.
The Rat Race comprises two categories this year: the Main Race (five-member teams running 5km) and the CEO Race (1.5km).
Since 2014, funds raised from the Rat Race have been disbursed via The Edge Education Foundation, the philanthropic arm of The Edge Media Group. In line with the foundation's focus on education, the funds go towards supporting projects or programmes related to education, training and skills development.
In particular, some of the funds are used to support the foundation's programmes to enhance English proficiency and financial literacy as well as its scholarship programme.
This year, however, a percentage of the funds will be allocated to Tabung Harapan Malaysia, a trust fund set up by the Pakatan Harapan government that allows Malaysians to contribute towards settling the national debt, which stood at a staggering RM1.087 trillion as at end-2017.
"This year, we have decided that 30% will go towards Tabung Harapan Malaysia. The rest will be split between The Edge Education Foundation and other beneficiaries," The Edge Media Group publisher and group chief executive officer (CEO) Ho Kay Tat told sponsors recently.
While it is optional to contribute to Tabung Harapan, it is hoped that the participating companies will consider chipping in.
Ho also said he hoped the Rat Race will raise at least RM1.2 million this year, compared with RM1.12 million last year.
The Rat Race will once again be "Powered By" Eco World Development Group Bhd (EcoWorld) and joined by returning "Platinum" sponsor Matrix Concepts Holdings Bhd. UEM Group Bhd and Land & General Bhd will also mark their return as "Silver" and "Bronze" sponsors respectively.
This year's race features two new sponsors — Paramount Property Development Sdn Bhd as a "Silver" sponsor and Kuala Lumpur Kepong Bhd (KLK) as a "Bronze" sponsor.
Astro Malaysia Holdings Bhd will be the official TV and radio partner while 100PLUS will be the official drink sponsor for the Rat Race.
To EcoWorld chief operating officer Datuk S Rajoo, who runs in the race every year without fail, giving to charity is in the property developer's DNA.
"Even at EcoWorld, we have the EcoWorld Foundation and this year, we were very pleased to hear The Edge announcing that a part of this funding will be going towards Tabung Harapan, which I think is a very good thing to do for the nation," he said.
Returning "Platinum" sponsor Matrix Concepts is very happy to be participating again, said CEO Leong Jee Van, adding that it is a fantastic way for the company to give back to society and also support The Edge.
"We think what they are doing with education and this year with Tabung Harapan is great. We are very supportive of it."
Group CEO of Paramount Corp, Jeffrey Chew, said it is an "excellent way" of showing what companies believe will be the future of Malaysia and to look at how they can help in managing the country better in terms of its debt.
He added that the Rat Race is something Paramount would like to participate in as it strives to be a healthy organisation.
"It really forces me to go back to fitness and it will be interesting to see how fit the Paramount people are," he joked.
Aishah Nor, head of group corporate communications for UEM Group, said education is an area of corporate responsibility that the group focuses on and holds dear to its heart.
"We have implemented and supported various programmes aimed at not just school-going children but also diploma holders and graduates. We have also introduced many initiatives for our staff.
"Our support for the Rat Race is another avenue for us to meet our objectives for we believe that every individual, especially from an underprivileged background, should be given access to a good, holistic education and that an educated society will benefit Malaysia's competitiveness in the long run," she added.
Meanwhile, the head of the corporate responsibility committee at KLK Oleo, Lim Shen Wei, said he is looking forward to the race as it is different from other races. He noted that it really brings out the team spirit among the companies that are competing.
"It is quite noble of The Edge to do their part in nation-building and contribute 30% [of the funds] this year," he added.
Land & General said it has been supporting the Rat Race for some time now as it is in line with its vision of "building value for tomorrow".
"This is not just to our customers but also to inspire society in the hope that this value will be sustainable," said managing director Low Gay Teck.
Source: TheEdgeMarkets